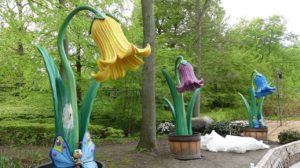 I dag skal vi til Aarhus, nærmere bestemt Tivoli Friheden, hvor vi har fået os en snak med administrerende direktør, Henrik Ragborg Olesen. BilleBy er det nye område i Friheden, som er blevet udviklet gennem de sidste tre år, og her er der tilføjet en masse forlystelser rette mod familier med små børn. Først kom Køreskolen og Græshoppen i 2015, i 2016 fik Friheden en ny børnerutschebane – Bisværmen – og i år åbner parken som bekendt Sommerfuglen, som er Gerstlauers nye mini-udgave af den velkendte SkyRoller. BilleBy er et veltematiseret område, hvor de mindste kan prøve mindre udgaver af de store forlystelser i parken.
Endnu engang afprøver tyskerne deres nye koncepter i en dansk park, som vi også ser i Knuthenborg i år, og tidligere har set i BonBon-Land og Fårup Sommerland. Henrik fortæller at forlystelserne i området for mange fungerer som en forsmag på de større forlystelser i parken, og området er bevidst skabt til netop dette:
"Billeby giver de små børn mulighed for at opleve en "mini-version" af de større forlystelser som ældre søskende kan prøve – eksempelvis kan de helt små nu teste Bisværmen som jo er en mindre version af Tyfonen."
Ydermere vil parken også fortsætte arbejdet med at hæve den grundlæggende kvalitet overalt i parken – ikke blot forlystelserne, men også de forskellige servicefaciliteter, spisesteder og toiletter. Det er nemlig noget man generelt i Aarhus lægger rigtig meget mærke til, som Henrik også selv nævner: "vi kan se at der i Aarhus er et stort fokus på gastronomi og økologi af høj kvalitet – og som en city-park arbejder vi på at skabe kvalitet på lige fod med det man ellers kan opleve af god kvalitet i Aarhus."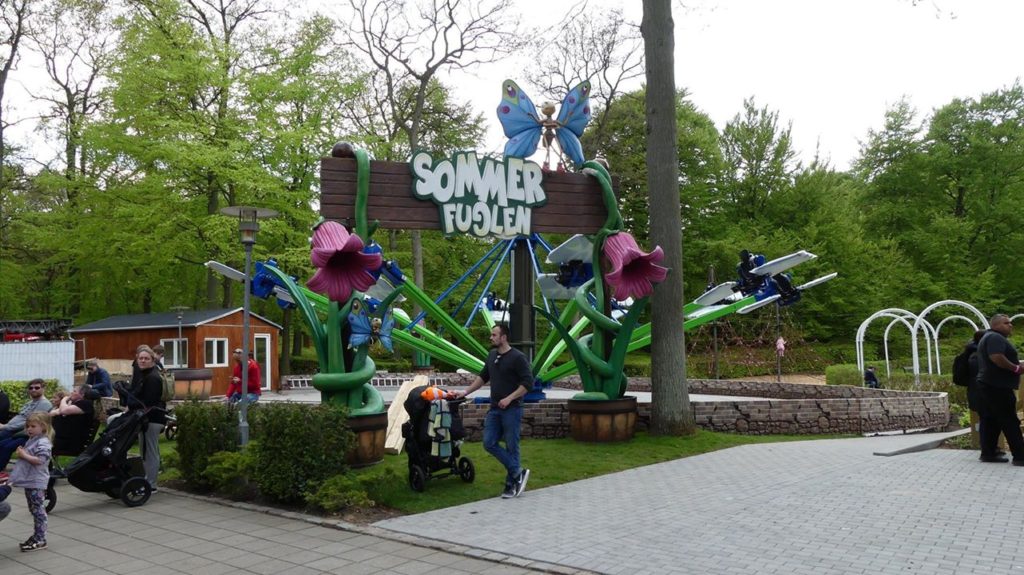 Årets nyhed, Sommerfuglen, er seneste tilføjelse til BilleBy – og er Gerstlauers nye udgave af SkyRoller'en
Fed Fredag er også et element, der er under stor udvikling i parken. Navnene bliver større og flere, og hele eventet vil i fremtiden få et løft – gæsterne skal have lyst til at komme for at høre musik, møde nye venner, og opleve mad og drikke af god kvalitet. Senest har Friheden åbnet en pizza-bar i samarbejde med Michelin-kokken Wassim Hallal, og derudover får gæsterne også en gin-bar samt et liveorkester, der varmer op til aftenens koncertnavn. Et andet eksempel på et tiltag, er en ambition om at gentænke hele sceneområdet, og etablere en overdækning, der vil kunne sikre at 8-10.000 gæster kan opleve aktiviteten på scenen uden at blive våde. Det skal samtidig være en måde hvorpå 17.000 samtidige gæster alle skal have et godt ind-kik til scenen udefra. Og i den helt vilde version kan hele sceneområdet måske endda lukkes af og omdannes til en egentlig bygning, fortæller direktør Henrik, og tilføjer:
"Derved kan vi danne ramme om et væld af forskellige aktiviteter – herunder også en del B2B-aktiviteter som vi allerede har succes med."
Ambitionen er at trække ca. 130.000 gæster til Fed Fredag i Friheden, og der arbejdes stadig på at finde det helt rigtige koncept for weekendunderholdning til de danske familier. Man vil udnytte den vækst der er i kongerigets andenstørste by, til selv at skabe en forøget vækst og forbedret kvalitet. Også gennem Jul i Friheden vil væksten øges, og allerede fra sidste år kom 100.000 til Jul i Friheden, og var medvirkende til en fremgang i besøgstallet på 20%.
Støjskærmene er en del af prisen, der kommer med den smukke beliggenhed centralt i Aarhus. Der er dog mange udfordringer ved at drive en park der ligger så centralt i en storby som Aarhus. Støjskærme er et krav til at nedsætte støjen i området, og ekstraomkostningerne ved nyopførsler af større forlystelser er betydelige – men det har Henrik Olesen efter 14 år på posten vænnet sig til, og lært at leve med. Som han med egne ord siger:
"Jeg ser nu de (betydelige) ekstra-omkostninger som støjdæmningen medfører, som en "skat på god beliggenhed". Vil man drive en forlystelsespark på så attraktiv en beliggenhed som vores, så må man regne med at skulle tage særlige hensyn til omgivelserne."
Aarhus er som bekendt Europæisk Kulturhovedstad i 2017, og her forsøgte Tivoli Friheden naturligvis også med flere gode projektforslag at få en aktie i projektet, men det lykkedes desværre ikke at overbevise sekretariatet, og derfor venter man nu i spænding på at se effekten af det store projekt i byen. Det er uvist om følgerne vil være positive eller negative, og det er umuligt at svare på om de mange nye besøgende i Kulturhovedstaden vil slå et smut forbi Friheden, eller fravælge forlystelsesparken, blandt de mange andre tilbud projektet kommer til at byde på.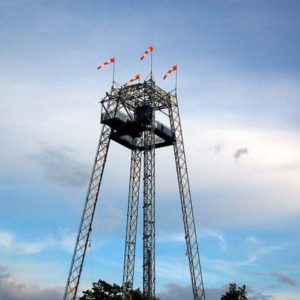 Det enorme tårn er gået hen og blevet lidt af en signatur-ride for Tivoli Friheden
Men hvis ikke Kulturhovedstadsprojektet lokker flere gæster til Friheden, så kan en vis signatur-ride måske gøre det. Sky Tower er et hit blandt gæsterne, og forlystelsen er også gået hen og blevet en viral sensation. 18 mio. har set ThemeParkReview's klip på YouTube fra Sky Tower, og selvom forlystelsen ikke er direktørens favorit, erkender han at den er blevet lidt af en signatur for den aarhusianske park.
"Sjov historie med de mere en 18 mio. delinger – det havde vi ikke lige set komme. Ærligt talt så har jeg aldrig syntes at Sky Tower passer ind i en forlystelsespark og jeg har da haft drømme om at udfase denne aktivitet, men publikums interesse taler jo sit tydelige sprog!"
I forbindelse med snakken om Sky Tower fortæller Henrik at man også arbejder på at optimere tårnet. Man har løse planer om eventuelt at tilføje en svævebane ned over søen, hvilket ville gøre attraktionen endnu mere unik, og appellere endnu bredere. Parken har også leget med tanken om at tilføje et glas-gulv på platformen i toppen af tårnet, som man har set i andre høje tårne (Blackpool Tower eksempelvis) – skribenten taler af erfaring, når han her skriver at det kan være ret nervepirrende at hoppe på sådan et gulv!
Ligegyldigt hvad det måtte ende med, når det kommer til videreudviklingen af det enorme tårn, så får i en tommelfinger op med på vejen herfra. En enorm svævebane ville være en kæmpe gevinst til sådan en attraktion!
Held og lykke med den netop igangsatte sæson, og god vind i fremtiden! Vi holder øje med jer!
Artiklen er skrevet og redigeret af Alexander Poulsen