Atter en fredag, og atter en snak med en dansk forlystelsespark. Denne gang skal vi til Klampenborg, et smut i Dyrehaven, der huser verdens ældste forlystelsespark – Bakken. Vi har fået en snak med Bakkens direktør, Nils-Erik Winther, om parkens fremdrift og ambitioner, og meget mere. I 2015 havde parken et rekordstort antal gæster, da 2.7 millioner kiggede forbi. Og Korsbæk har uden tvivl været et trækplaster, der har givet gevinst til hele parken, og alle de forskellige teltholdere. Selvom man i 2016 måtte "nøjes" med 2.5 millioner gæster, så ligger parken stadigt stabilt placeret som den næstmest besøgte danske park – kun overgået af lillebror Tivoli.
"Korsbæk har været en kæmpe driver, for alle teltholdere i parken. Folk kommer fra Lolland, Falster, Fyn og Jylland for at opleve det her Korsbæk område, men ender også med at bruge hele dagen i resten af vores park – derfor vækster vi rigtig fint for tiden"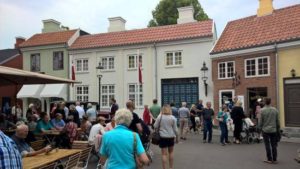 lyder det fra den administrerende direktør. Nils-Erik har dog en stærk vilje og tro på, at man kan gøre besøgstallene endnu bedre i fremtiden – det skal først og fremmest sikres via efterårsferien og vinterferien, hvor Bakken nu også i fremtiden vil være med.
Tivoli har haft stor succes med både Halloween og Jul i haven. Djurs, Fårup, BonBonLand og Friheden har alle åbent igennem efterårsferien, og Friheden har senest tilføjet jul til programmet også. Nu er det Bakkens tur til at komme med, og her er der uden tvivl et stort potentiale, og en enorm vækst at hente. Spørger man Nils-Erik Winther, har det måske endda taget lidt for lang tid at nå hertil:
"Jeg arbejder stenhårdt for at skabe mere fleksible rammer for åbningstiderne på Bakken, så de matcher år 2017. Tivoli startede med juleåbent for 20 år siden, og dengang var vi ikke klar – Men det er vi nu!"
Og parken har da også rykket sig markant over de sidste otte år, hvor Nils-Erik har siddet som direktør. Han ankom i jobbet nogenlunde samtidig som Tornado, der den dag i dag står som en af de mest intense rutschebaner i kongeriget. Siden har parken installeret mekaniske bremser og fået nye vogntog på den gamle trærutschebane, den solide wild-mouse fra Mack, De Vilde Mus kom til, og SkyRoller har tilføjet til lineuppet af intense flatrides. Der er kort sagt lidt for enhver smag i parken, og der er mere på vej, lover direktøren.
"Vi har nogle pladser, hvor jorden ejes af staten. Derfor kommer nogle af de pladser i udbud de næste par år – Vi leder efter nye forlystelser, noget der rammer bredt og har nyhedsværdi"

Vi spørger også lidt ind til et par af de forskellige hændelser, der har været i parken under Nils-Erik. Først går snakken om den gamle trærutschebane, der i 2010 fik nye klæder, i form af vognsæt og mekaniske bremser. Nils-Erik ærgrer sig den dag i dag over at han i sit første år ikke blev oplært som bremsemand, da det nu er for sent – men derudover hverken frygter eller fortryder han den beslutning, der blev truffet. Man har optimeret sikkerheden på banen, og selvom man kunne frygte at noget af charmen og nostalgien ville forsvinde med bremsemanden, så har Bakken ikke mærket nogen negativ effekt af generationsskiftet.
"Kunne jeg skrue tiden tilbage, så ville jeg have taget et år i 2009 og blive oplært som bremsemand. Så ville jeg bedre kunne forholde mig til ændringen på banen nu, tror jeg. Og det kunne da have været for fedt!"
Lyder det entusiastisk fra den lunefulde direktør. Også den store Splash-Battle midt på torvet i parken får et spørgsmål med på vejen, og Nils-Erik svarer prompte, at det absolut ikke gjorde ham noget, at den attraktion forsvandt – den kom aldrig til at fungere i den danske sommer, der som bekendt ikke altid er lige solrig. Og som kun den administrerende direktør kan sige det: "Nu er vi glade for SkyRoller i stedet!", hvorefter han leverer tips og tricks til at få flere spins i den interaktive Gerstlauer karrusel.

Til sidst fortæller Nils-Erik Winther også, at han årligt møder producenter som Intamin og Gerstlauer til den europæiske messe (Euro Attractions Show), og at man er glade for det samarbejde man bl.a. har haft med disse to. Måske vi kan have lov at håbe på endnu en fed Intamin bane på Bakken, eller måske det er på tide med en kompakt Gerstlauer i verdens ældste park. Mulighederne er mange!
Vi ønsker jer god vind i løbet af sæsonen, og i fremtiden – vi holder øje med jer!
Artiklen er skrevet og redigeret af Alexander Poulsen, CoasterClub Denmark